Valve Steam Deck – Powerful and Affordable Handheld Game Console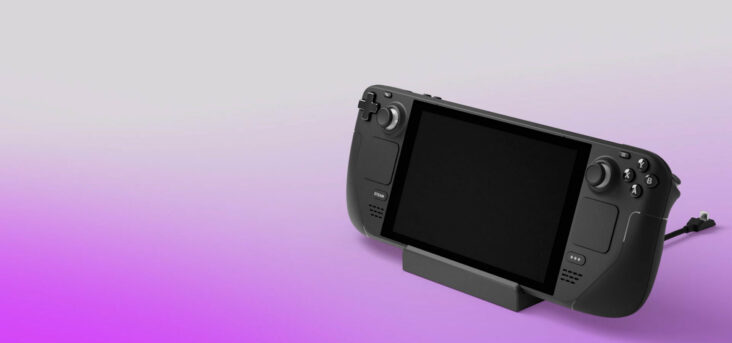 Imagine the possibility of playing latest AAA games from your steam library wherever you go. There is no need to bring your bulky powerful computer along especially when you are traveling. There is no need to bring external controllers or display to hook up with the game console especially when traveling. And this is all made possible by some powerful portable game consoles like the GPD Win 4 and the Anbernic Win600 just to name a few. The Valve team has joined this crowd too by introducing a powerful handheld game console named Steam Deck.
Compared to other powerful game consoles in the market, Steam Deck does not come in a size where it is super easy to carry with. But it is possible to be carried along wherever you are heading to. Measuring at ~298mm x 117mm x 49mm and weighing at ~ 670g, this machine can still be easily kept in any travel bag and travel with. One highlight (or advantage some might say) of this machine is that it is built with an AMD APU processor and optimized for Steam games. Hence the capability to play some of the latest AAA games even without playing through your powerful PC at home.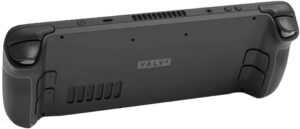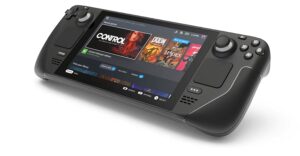 All its models (just different storage size) are built with 16GB LPDDR5 RAM. And on top of the standard buttons which you can get from a game controller, this machine has 4 additional assignable grip buttons at the back too. This is specifically helpful and convenient if you are on a game that requires more button to perform specific actions. Its display is a 7 inch 720p HD LCD display. Which in many case its a screen size suitable enough for viewing on a portable machine.
While the Valve team also offers the Steam Dock (sold separately), it is possible to hook up Steam Deck with other docking solution too. When this machine is docked, with the technical specifications built-in this can easily turn into a portable PC too. There were success stories about Steam Deck being able to run Windows OS too (you may have to search online separately).
In case if you are interested to get one for either playing AAA games on the go, entertainment in general or even delivering work when traveling, tech it out the detail features of this powerful and affordable game machine @OFFICIAL WEBSITE. This machine is selling fast and may be out of stock at times. You may still be able to find stock in other e-commerce site like @AMAZON (note that price may vary depending on the sellers price instead).