Soomfon Steam Deck Carry Case – Case for game console with built-in stand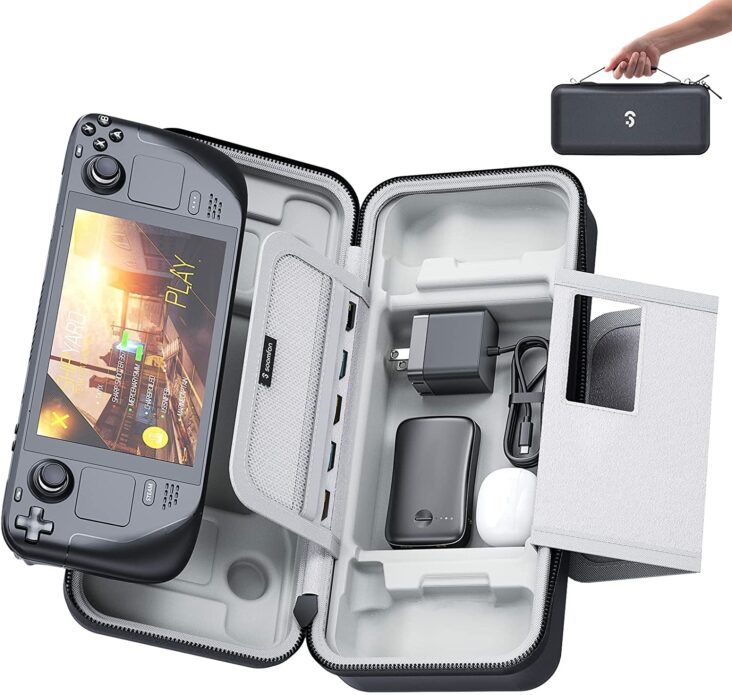 Steam Deck is one of the most powerful handheld game console at least up until to date. It can be quite bulky if you compare to other similar devices on the market. But it is definitely possible to travel or carry around despite the bulkiness. With the affordable price tag and the top performance it can deliver, it surely is worth carrying along wherever one is heading to. Though the console is packaged with its original carry case, one might be interested to use a different design case instead. With the demand, there are also plenty of other carrying case available which are worth teching it out.
The Soomfon Steam Deck Carry Case is one of the many that comes with ample space for not just the machine, but its accessories too. This case uses EVA shell on the outer layer which is capable to resist external extrusion. It has a plush fabric layer in the inside which helps to protect the console's screen too. It also come with a middle compartment which allows the accessories to be stored along. This compartment is thick and wide enough to store the AC charger, cables, earphones and other compatible accessories too.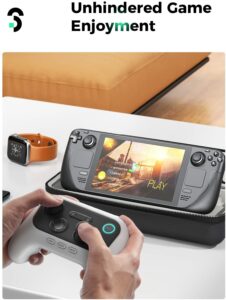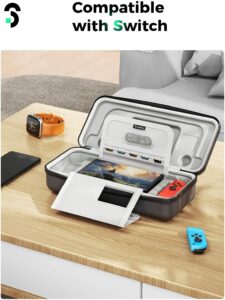 There are also built-in pockets which can fit up to 5 additional SD cards. There is a slightly larger net pocket available to store other thin and small accessories too. There is a middle layer which can be folded to turn into a stands within the case as well. With an extra external controller, you can still play your favourites AAA games in table mode. The folded stands form has got an empty window too. This empty window is positioned where the Steam Deck's fan is. This design helps with dissipating the heat when the machine is actively being used.
Though the Soomfon Steam Deck Case is designed specifically to be compatible with Steam Deck measurement, this carry case is compatible to store other handheld game console such as the Nintendo Switch too. Tech it out the detailed built and features of this spacious Steam Deck case @AMAZON!