Shargeek Starship Seer – Powerbank that can predict charge balance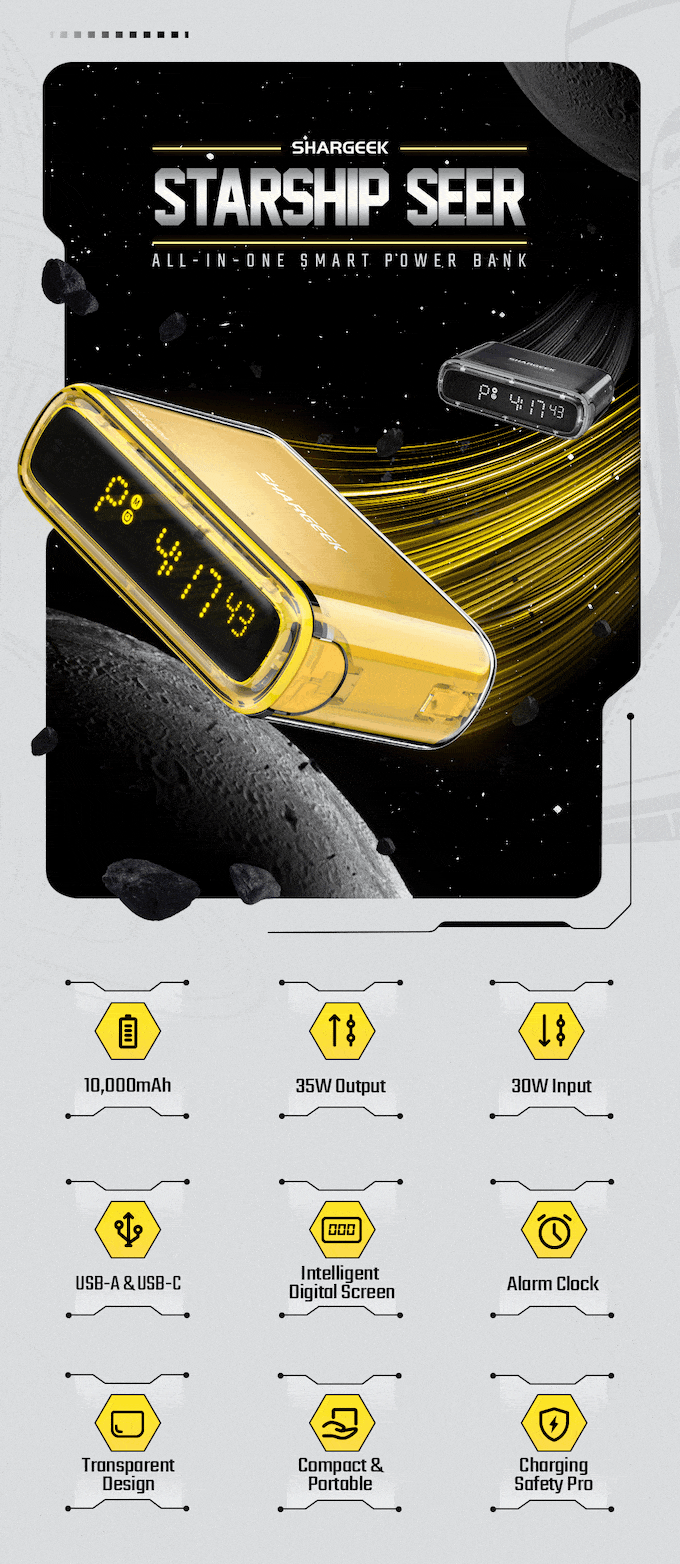 A smart power bank do not only supply portable power to your devices but they usually can offers more. And the Shargeek Startship Seer is a power bank that falls onto the "smart" category too. At a quick glance, this power bank does look like the Capsule Gravity, another model from the same make. When zoomed in, this power bank do provide some features where the Capsule Gravity don't. One notable different is the actual size of the device. It measures at ~9.0 x 6.5 x 2.9 cm and weigh at ~222g, this model is actually bigger and heavier than the Capsule Gravity. At this bigger size and weight, this power bank is still consider a gadget that is easy/convenient to travel with.
This power bank is fair in terms of its built-in battery capacity too. With 10,000 mAh capacity, this power bank can easily charge up many different model of devices to full for more than once. The Starship Seer is so smart that it can even help predict the remaining charging through its digital display. And with the built-in digital display, this device can be transformed into a clock or an alarm clock too. It can produce a faster charge too with the capability to output up to 35W of power. Imagine charging an iPhone 14 Pro from 0% up to 60% within 30 minutes as an example. Recharging the device itself can go fairly fast too. With the 30W input power capability, this power bank can easily be charged up within 1.5 hours.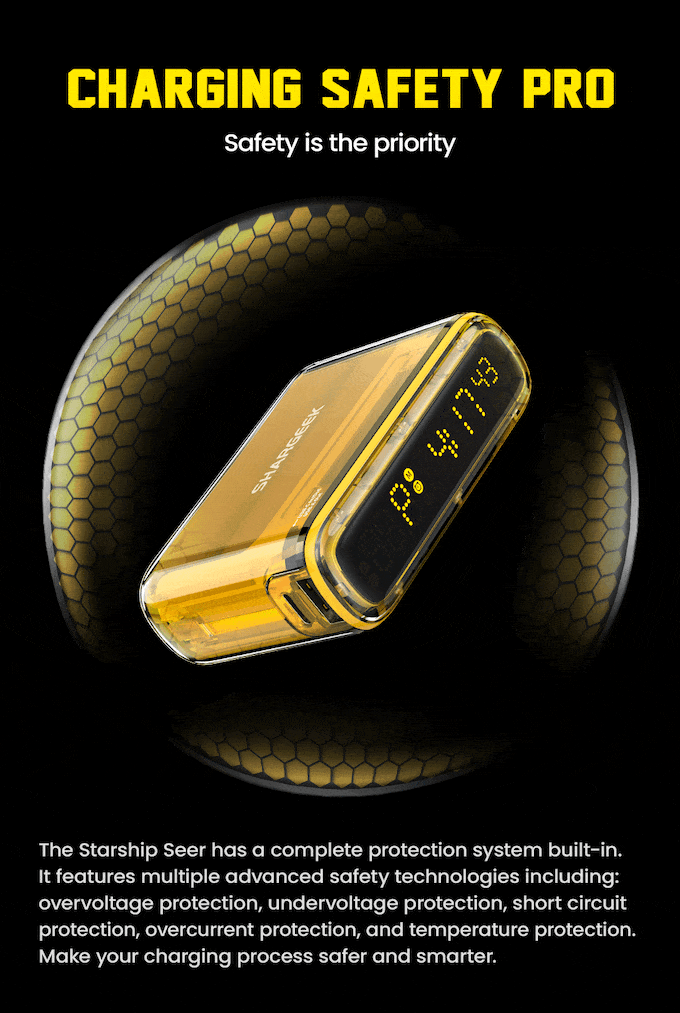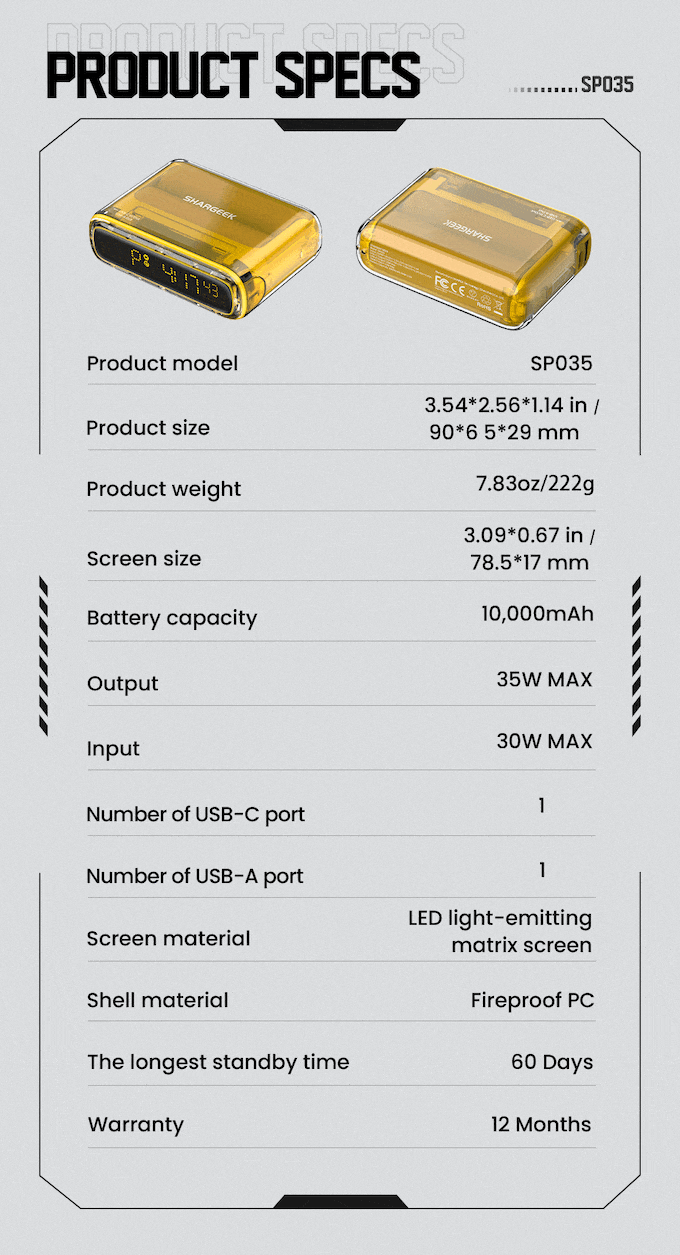 This device contains two ports as opposed to the Capsule Gravity which has only 1 USB-C port. It comes with 1x USB-A and 1x USB-C ports which allows charging more than 1 device simultaneously. This Starship Seer power bank is not shy from being a safe gadget too. There are a bunch of advanced safety technologies built along which includes but not limited to overvoltage, undervoltage, short-circuit protection and many more. To review the detail safety build as well as the detail specifications of this smart power bank, a crowdfunding campaign is made available for this, tech it out @KICKSTARTER!