Omni 20C+ Power Bank – A multi ports USB and wireless power bank with USB Hub capability

The Omni 20+ is one of the all-rounder portable power solution in the market. But if you are looking for a portable power solution and does not require the AC/DC port, try the Omni 20C+ instead. They look similar but the obvious differences between the two is that the latter does not built-in with the AC/DC ports. The Omni 20C+ focuses more around charging your USB chargeable devices instead. On the book, it may look as though the Omni 20C+ model is missing some ports and is at the disadvantage. But this power bank do offer some powerful and useful features too.
This C model comes with 2x USB-C ports as compared to the non-C model which only built-in with 1x USB-C port (with 60W output). One of the USB-C port is PD enabled and it can output up to 100W of power. It is worth noting that the other USB-C port is capable to output up to 60W instead. When both ports are used, this power bank can output up to 120W through both the ports. And similar to the non-C model, this 20,000mAh power bank can be recharged within 3 hours time and it supports pass-through charging too.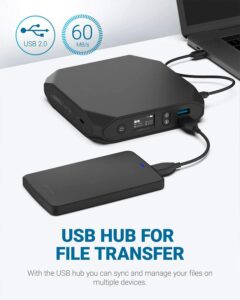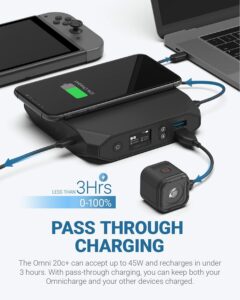 Apart from the USB-C ports, the C model is also equipped with 2x QC 3.0 USB-A ports. One other feature the Omni 20C+ model offers is that it can be turned into a USB-C Hub. Imagine that a laptop is connected through the USB-C port and a USB gadgets are connected through the USB-A ports. With a switch of the button to Hub mode, this portable gadget would then be transformed into a USB-C Hub device instead. Similar to the non-C model, this Omni 20C+ model do have a wireless charging pad as well. This enable you to charge multiple devices simultaneously as well. If you are traveling with majority USB chargeable gadgets and if you want to skip carrying their respective power adapters when traveling, tech it out the detail specifications of this power bank cum USB-C Hub gadget @AMAZON!