Horizon: MFi & MagSafe 3-in-1 Wireless Charger – Made For Wireless Apple Products

The Apple wireless products ecosystem have been a hit for many Apple users. From the Apple Watch, iPhone to AirPods, these are some renown wireless gadgets from Apple. They are so convenient to travel with and totally useful. To charge each of them up especially during travel can be a pain for some of us. Bringing along each of their individual charger and cables can easily contribute to unorganise packing plus taking up spaces in the travel bag. A single device that can charge up all 3 devices would be ideal in this case. Whilst, there are many products in the market that offer such solution, the Horizon is one of the wireless charging solution that comes with other features too.
This premium MagSafe gadget is claimed to be double MFi certified. It charge faster and safely against the iPhone, Apple Watch and AirPods simultaneously. This gadget comes with 2x MagSafe panel, one for the Watch and another for the iPhone. It has a third 10w Qi-enabled panel too. This panel do not only capable to charge up AirPods but it can charge up other Qi supported devices too. This enable you and your travel mate to skip bringing along more charging cables. Focus on packing up other travel essentials instead.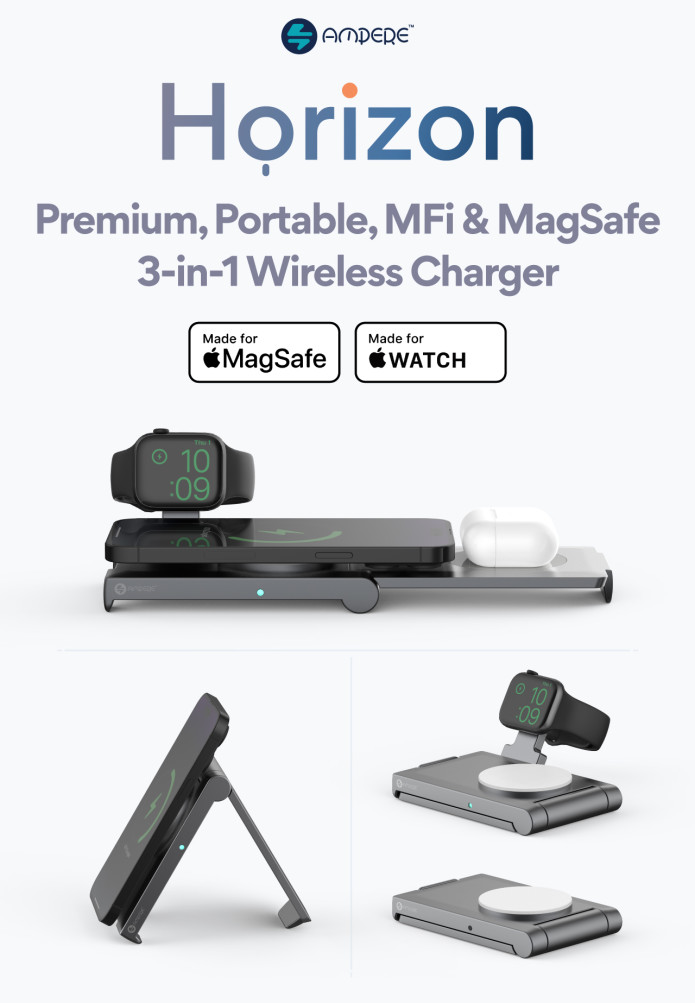 The Horizon is foldable. With this capability, it turns this gadget into a multi-features accessory. It can be treated as an iPhone and an Apple Watch stand too in this case. You can watch your favorite content or FaceTime at the right angle even when you are traveling. When not in used, fold it again neatly and keep it in the bag easily without taking up too much spaces. This premium MagSafe plus travel friendly wireless charging solution for the Apple ecosystem is currently undergoing a crowfunding campaign, tech it out the detail specifications and features @INDIEGOGO!