TREBLAB FX100 Portable Rugged Speaker – A Rugged Power Bank Too
If you enjoy listening to music or audio without the speaker close to your ears even when you are traveling, a portable Bluetooth speaker is a pretty decent choice. While there are plenty of wireless speakers in the market, the TREBLAB FX100 is one quality built speaker worth exploring. Lets be honest, this is surely not one that you can slot in your pocket. However, measuring at ~ 17.8 x 7 x 7 cm and weighing at ~ 610g, this speaker slot-able into your travel bag easily. Packaged with carabiner, this speaker can be hung on the bag too.
There are many features this Bluetooth speaker offers. One of the many being, its a rugged designed speaker where its IPX7 waterproof and weather resistant too. This makes the speaker suitable to be used around the beach, pool or other outdoor compound as well. It comes with a 5,600 mAh battery capacity which is claimed to be capable to playback up to 35 hours. Note that the playback length may varies depending on the usage and speaker configuration at the point of use. It has a built-in USB output port too. This allows the speaker to be transformed into a power bank if needed.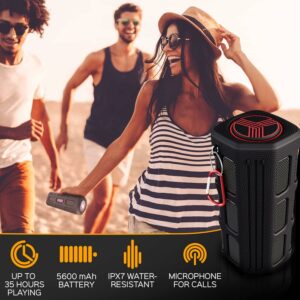 This model allows turning it into a True Wireless Stereo (TWS) mode by connecting two of the same FX100 speakers together. Plus there is built-in microphone as well. So its can also be used for conference call purposes and not just on audio playback. Built up with rubber plus metal body, this gadget can be extremely durable. It can output up to 20W of quality sounds too. Additionally, it comes with 2 sound modes, being the indoor and outdoor mode. This allows you to have a more compatible sound quality depending on the environment you are at.
To bring along a quality built wireless speaker without the need to worry about bringing extra power bank on your next travel, tech it out the details of this rugged speaker cum portable charger @AMAZON!