Renogy 72000mAh 266Wh 12v Power Bank – High capacity wireless power bank for multiple devices
If you are looking for a portable power station that can operate without any power source but still capable to keep your different devices juice up for a day (or more depending on the type of devices), the Renogy 72000 mAh 266Wh 12v Power Bank could be a good solution to consider.
This power bank comes with a massive 72,000 mAh battery capacity built-in as described which is at least 2 to 3 times the battery size of most power bank in the market. Though weighing at ~ 1.5kg and its size is larger than most power bank, it is still possible to bring around this device to ensure there is sufficient power supply for all your other devices especially if you are traveling to places with limited power source or none (i.e. at the camping site, etc.). This power bank however is not TSA-approved and is not allowed to be taken into the plane. It has a wide variety of ports yo enable you to charge different devices at the same time. This includes 1x USB-A port, 1x USB-C PD port that allows input and output of up to 60W and a separate USB-C PD output port of up to 27W. Additionally, this power bank has a wireless pad which allows a Qi-enabled device to be charged without cable. It however does not support charging low-power devices such as an Airpod or smartwatches.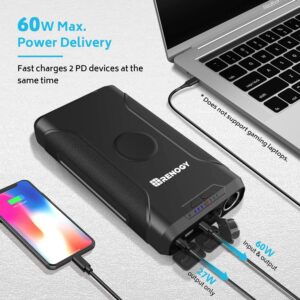 Renogy 72,000 mAh power bank also comes with a DC port that allows for bidirectional use. This allows the power bank to not just juice up USB support devices but supplying power to a none USB device is possible too. If you are still without any power source and the power bank need to be charged up as well, it is possible to solar charged by utilising the DC input port where the power bank can be juiced up within 4 hours with 100W solar panels. A 12v/15V car port is available too as another option of power source for other devices such as the CPAP devices (for example).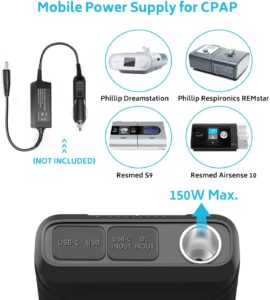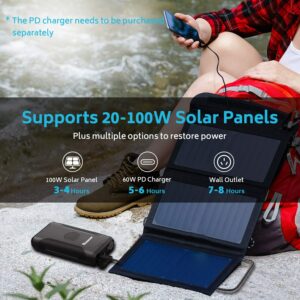 If you are interested to get a portable power station solution that can be a power source for many of your different devices for a longer period of time, tech it out the detail features and specifications of this massive capacity power bank that can charge up multiple devices at the same time @AMAZON!