P4 Wireless Charging Solution – Combine to boost battery capacity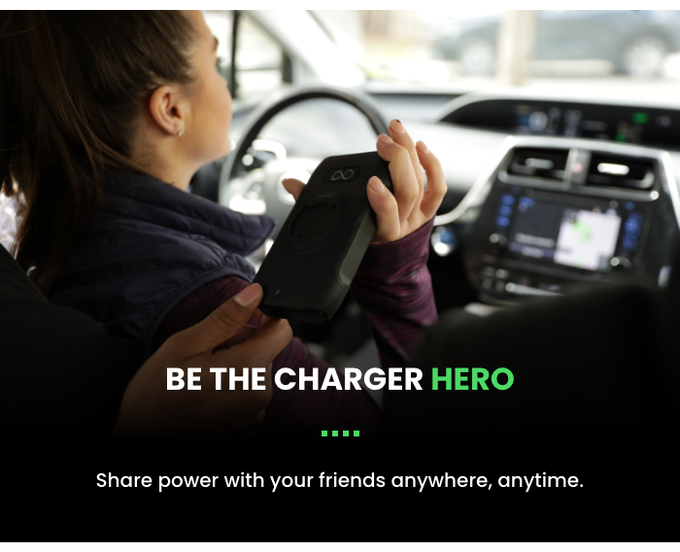 With the ever growing and advancement of smartphones/portable devices, keeping these devices juice up can be a challenge. Especially if you are travelling. A power bank becomes one of the essential travel items for many of us in this case. A single regular power bank however, may not be able to keep up with the many devices you may be traveling with. Some of us would end up needing more than one power bank to ensure that all their portable devices can be charged up. The P4 Wireless Charging Solution is one of the many power solutions that can give you full flexibility in many ways.


The P4 is a single power solution but can be split into three parts too. The three parts can be classified as the plug, the hub and the mobile where each has its own function respectively. The plug as its named, is function as the power adapter to charge the power bank itself or charge other devices via the built-in USB ports. The hub on its own is a wireless power bank with a large 12,000 mAh battery capacity. Where as the mobile, is also a wireless power bank but with a smaller 6,000 mAh battery capacity. Which can be treated as the "mobile" power solution in case if you opt to leave the rest at home or hotel instead.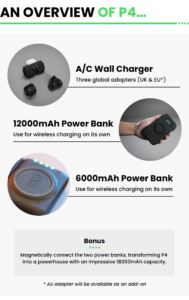 You can also turn it into an enormous 18,000 mAh power bank by joining each of them magnetically. This makes P4 a single power solution that can even charge up devices with larger battery capacity where necessary. P4 is travel friendly as it also comes with EU and UK adapter, to enable you to charge up the power bank even when you are in other regions. The AU adapter is available as an add-on however. The P4 is designed to have the capability to fast charge the power banks too. The mobile can be charged up to 50% in ~20 minutes time.
With the magnet built concept, it makes P4 Wireless Charging Solution compatible with many magnetic based accessories, for example the WalleyGrip plus it is MagSafe compatible too. This cool all in one wireless power bank is currently being introduced in the crowdfunding campaign platform, tech it out the detail specifications plus features @INDIEGOGO!