LAMBOGO – A rugged 8TB wireless storage solution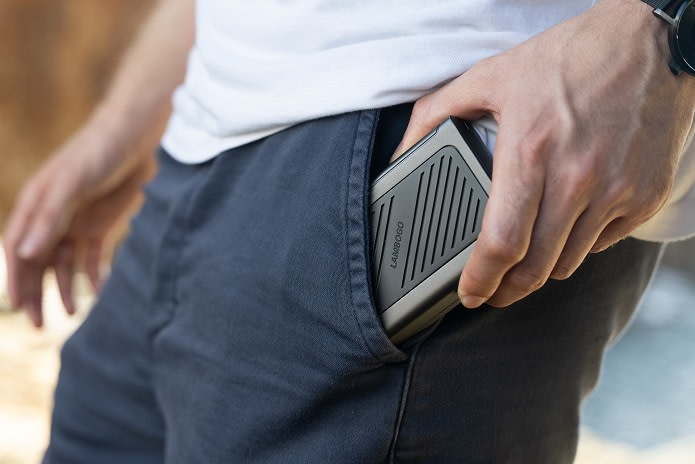 Storage is so important as there are more and more high quality soft copies that are valuable plus worth keeping for ages. High quality soft copies such as photos, videos and games come in larger size (usually). The standard hard-disk available in a desktop, laptop or tablet is not able to keep up with the mounting quality items and sizes. An external storage device would be an ideal solution to house all these valuable items in this case. For people who like to travel and take valuable photos or videos on the spot would prefer to carry a small and light storage device than carrying a bulky one instead. And the LAMBOGO storage device is a convenient storage solution that can offer more than just a storage device.
Measuring at ~7 x 11.6 x 2.7 cm plus weighing ~185g, this storage solution is at a decent size to travel with. It has different storage size options and offers up to 8TB storage as well. The LAMBOGO comes with a convenient way to quickly store or backup item from one source by just clicking button. With LAMBOGO, it is not necessary to have a medium such as a laptop/computer and cable to do the transfer, just slot in the SD card and/or USB Flash Drive then press on a single button to quickly transfer all the files into LAMBOGO instead. With the LAMBOGO app on your phone or tablet, you can quickly access to the files stored within the device without any cable. This makes photo editing and streaming for 4k videos easy as well as convenient.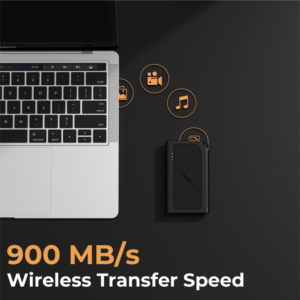 Files can be transferred in and out from LAMBOGO wired or wirelessly at high speed. With SSD Hard Disk built-in, files can be transmitted at up to 2.4k MB/s via cable or up to 900 MB/s via wireless. As a wireless storage solution, multiple devices can access to the same storage at the same time. This indirectly form a streaming station for the different devices too where each device can access to different video or files when connected wirelessly. It is also worth to mention that LAMBOGO is designed to be water plus shock resistance too. This will give the traveler who is traveling with this rugged storage device peace of mind especially when dealing with rough situation.
LAMBOGO is not just a storage device that offers robust storing solution but with the built-in 5,000 mAh battery capacity, it can be turned into an emergency power bank for your USB devices such as the smartphone and tablet if necessary. LAMBOGO is currently being hosted as a crowd funding item, tech it out for the detail features and specifications of this high speed plus storage solution gadget @INDIEGOGO!