Kensington SD7000 Surface Pro Docking Station – Carry your workstation everywhere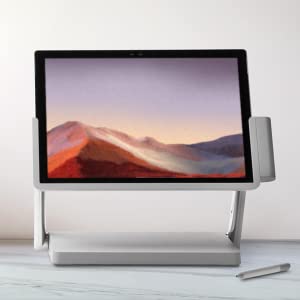 Traveling for work could be difficult at times especially if you rely heavily with a single machine (i.e. laptop or desktop) to deliver the work everywhere you go. A powerful laptop (or the 2 in 1 laptops) like the Microsoft Surface Pro could help you deliver the work while you are on the go easily. With smaller screen and limited ports on these powerful portable devices, the productivity of your work could often be a discussion point. Having a powerful docking station like the Kensington SD7000 Surface Pro Docking Station makes it possible for you to deliver your work in a more productive way with a Microsoft Surface Pro.
Unlike other dock stations or hubs in the market, this gadget is designed exclusively for the Surface Pro line such as the Microsoft Surface Pro 7, 6, 5 and 4. This dock station allows you to position your surface in two different ways being the hinge supports upright that allows comfortable viewing when typing or reading on the screen or the studio mode position which gives you an angle suitable for painting, drawing or even editing photos. The Surface Pen can magnetically attach to the dock, so that you can easily access if needed.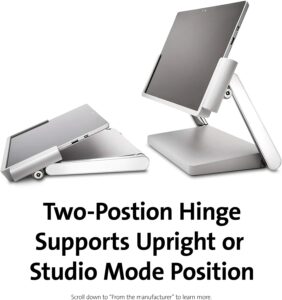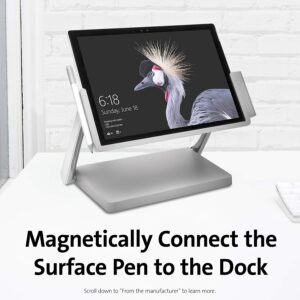 The Kensington SD7000 Surface Pro Docking Station comes with 1x HDMI and 1x DisplayPort multi-mode which allows you to extend the Surface Pro display up to an additional 2 bigger displays at the same time. As such, it can deliver one 4K monitor at 3840X2160@60Hz or two 4K monitors at 3840×2160@30Hz. It has an ethernet port which allows you to connect to a network easily and stably via LAN cable instead of connecting with wireless connection instead. This docking station also comes with 4x USB 3.0 ports, 1x USB-C port and a headphone jack. The Surface Pro can be charged while also being extended with additional accessories (i.e. USB keyboard, mouse, etc.) with the additional ports built-in.
Weighing at ~ 2.2kg, this docking station may not consider a lightweight hub which you can easily slot into your pocket or small bag when traveling, but it is still possible to travel with (i.e. in a laptop bag or bigger bag) and helps you to deliver productively compare to traveling with a huge bulky desktop machine instead. Tech it out the details and other exciting features of this productive travel friendly gadget @AMAZON!