Kanex GoPower Watch Plus – Portable Power Source For Apple Watch and Smartphones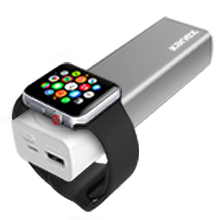 Keeping your Apple Watch and smartphone juice up all the time during travel could be a challenge. Especially there is no easy access to any power source/outlet whenever needed. An ordinary power bank with sufficient battery capacity may be able to keep your phone charged up, but it may not have a suitable interface to charge the Apple Watch instead. A power bank like the Kanex GoPower Watch Plus is a gadget to be considered for travellers that need to ensure both the Apple Watch and smartphone being juice up at anytime anywhere.
Its a power bank weighing ~ 0.21kg and measuring at ~10.2 x 3.2 x 14.2, which allows you to conveniently store this device in your pocket or bag without taking too much space. It has a magnetic inductive charging connector surface that enables you to charge most of the Apple Watch models (both the 38mm and 42mm models are supported) in the market. And with the built-in 5,200mAh battery capacity, this power bank is capable to charge up your Apple Watch for up to 8x (equivalent). The Kanex GoPower Watch Plus is Apple MFi Certified to ensure its compatibility and suitability to Apple products. The built-in 2.1A USB charging port enable you to simultaneously charge your smartphone (i.e. the iPhone) too.
This power bank can be charged via the micro USB input port available and it allows pass-thru charging where priority is given to the devices being charged instead of the power bank itself. In addition, this gadget has got built-in surge protection too to protect your devices when being charged.
To ensure that your Apple Watch and smartphone can be juice up at anytime anywhere especially on your next travel, tech it out the detail specification of this light and travel friendly power bank that comes with a magnetic inductive charging surface for your Apple Watch @AMAZON.