AVOTCH USB C Hub – The portable port extensions
In recent years (or a trend as of to date at least), you tend to see a lot of portable devices such as laptops and/or mobile phones are equipped with USB C port. Some devices (such as the Apple Macbook Pro) would even just provide the USB C Hub ports only (without other input or output port options). And if you are travelling or being away from your work desk, you may find that your portable devices are at a disadvantage because you are not able to extend its capability such as utilising USB A type component(s) or event extend your portable device to a larger monitor (or even projector for presentation purposes or for any reason that you can think of).
One solution is to bring along a USB C Hub with you. In general, its a small little device just like some old-school USB hubs (mind you, its still a widely use product) where it allows you to extend your device capability by giving you more ports. And if you simple do a search within just Amazon itself, you would get a wide range of USB C hub products at different prices and different combination of use.
But one that I particularly like (or top of my list) considering convenience-y and portability is what I take into account is the AVOTCH USB Hub.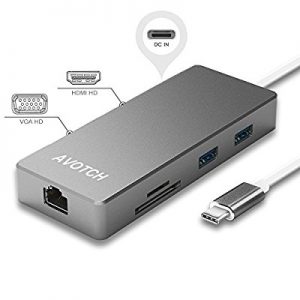 It is certainly not the cheapest of all, but its a pretty decent looking looking hub and most importantly its not too bulky. Yet it is giving adequate ports for you to work on your portable device almost like you are at your office desk or working with a desktop PC. For example:
You can hook it up to a Monitor via the VGA or HDMI port available (note that these ports only support for mirror mode and not for extend mode)
You can extend your portable device memory with the SD/TF slots available
You can use other USB based devices such as keyboard, mouse or even external USB HDD with the USB 3.0 ports available
You can still get into a network or go online with the Gigabyte Ethernet port
Plus if your portable device is depending on the USB C port itself for charge but its being used up by this hub, need not worry because it gives you an additional USB C charging port as well

Also, here is an idea of what you can do with all the available ports: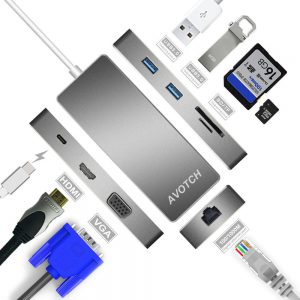 Plus this hub is compatible with a decent number of portable devices (Laptops mainly) so far, as claimed, it supports the Apple 2016 MacBook Pro 13/15in., 2016(2015) New MacBook 12in. HP spectre13, Pavilion x2 , DELL XPS12 XPS13 Venue Pro , Lenovo YOGA 900S 910S, Chromebook Pixel,Gigabyte computer.
If you are indeed looking for a USB C Hub be sure to also check:
If it support the portable device that you will be attaching with?
If the ports offer adequate for what you will be extending with? Because, if you find most of the ports mentioned here are not necessary for you, you could definitely get much cheaper one via the list here or somewhere else in the market.
However, this USB C hub is surely enough for me to survive with my portable device (laptop for example) especially when I am travelling and solely depend on my laptop for work. I may not require all the ports available in this hub as I think through but I can never predict whether I would need them at some point in the future as well. So it will be more like "as a safe side" for me to get an almost all-in-one hub.
If you would like to own one of this USB C Hub and would like to know more detail about its feature and price, tech it out here!