Anker 727 GaN Prime Charging Station – Power solution with AC Outlets and charges six devices
Having more than one device (not just a smartphone) is becoming pretty common. And traveling with multiple different charging adapters to juice up these many devices can be a pain too. It would be ideal to skip bringing the multiple different adapters especially when you are traveling. Whilst there may be plenty of power station options in the market, the Anker 727 Charging Station is one of the many with slim and neat design plus it supports charging multiple devices as well.
This slim looking gadget comes with some convenient features which include 2x USB-C, 2x USB-A and even 2x AC Outlets. And the design itself is extremely travel friendly, weighing at less than ~0.5kg and measuring at only ~16.2 x 7.9 x 1.8 cm. The ports can be used simultaneously making it possible to supply power for up to 6 devices at the same time. It is claimed to be a super fast charge gadget which can output up to 100W with the GaNPrime technology used. For example, a MacBook Pro 16″ laptop can be charged to 50% in approximately 43 minutes.
This gadget is built with some good safety features too. Its ActiveShield 2.0 technology can monitor temperature in real time and adjust the power output to further protect devices that are connected with this gadget. It is worth noting that even though the design looks like a slim power bank, but in actual fact, this isn't a portable battery solution. This is a power station which requires power supply from the usual wall adapter for example.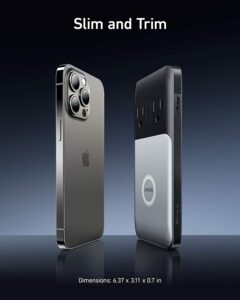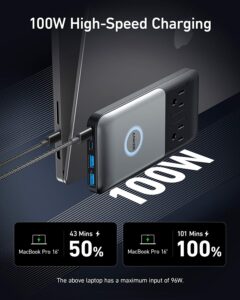 In case if you are traveling for leisure or for work with more than one device, skip bringing along the many different charging equipment for each devices. Grab a slim and lightweight portable power station like the Anker 727 power station instead. Tech it out the detail specifications of this travel friendly gadget @AMAZON!