Microsoft Audio Dock – A USB-C Hub with Audio Functionality
A simple and organised workstation can help in providing good vibe especially when you are delivering work. Laptop is pretty common for many travelers who may not have a dedicated workstation. And most laptops in the market are simplified to make it more portable and travel friendly. This makes setting up a workstation when you need to get to work a challenge (i.e. during travel). Using the audio built-in together with a laptop may not be as convenient as it may seem. They may produce a lower quality of the audio output and voice delivery via the microphone too. Many may reside with an external audio solution instead.
The Microsoft Audio Dock is a hub solution that can help with setting up a workstation conveniently and neat. Unlike many other docking or hub solution in the market, the ports available for this gadget isn't very impressive. But it is surely sufficient for anyone who wants to setup a simple workstation especially when you are hitting the road. This dock comes with 2x USB-C ports. This is helpful when your host machine (i.e. the laptop) has only a single USB-C port. Also extending your laptop screen to two additional display is made possible too by utilising the built-in 1x HDMI as well as one of the USB-C port. It comes with 1x USB-A port too to allow connecting to other USB accessories.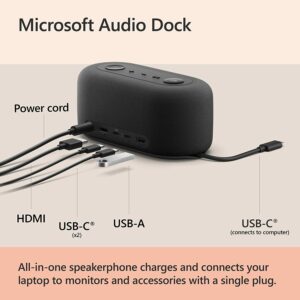 Moving away from the hub features, this gadget is actually designed to do more. It is also a speakerphone and its Microsoft Teams certified, hence it includes the Teams app compatible buttons for easier navigation. The audio solution is not built in a regular stereo speaker form too. It comes with omnisonic speakers design that delivers 15 watt woofer and 5 watt tweeters. This can produce a much higher quality of audio output not just for a conference/meeting, but for entertainment too. Due to the multi-functions capability, this gadget is consider bulky in size. However, it is still possible to travel with when there is space available within the travel bag. To learn more about the built details of this multi-functions and workstation setup friendly audio dock solution, tech it out @AMAZON!