Baseus USB Type C HUB Docking Station – USB Type C Hub for USB C Phones or Tablets
If you can operate/deliver a lot with just your smartphone or tablet, you may be able to deliver more or operate much easier with a USB C Hub like the Baseus USB Type C Hub Docking Station.
Its not just an ordinary phone holder that can charge your phone at the same time but it can extend your smartphone (tablet is possible too but it is recommended to first check the supported model with Baseus) with additional ports built-in with the docking station too. This gadget comes with a card reader slot for SD card and TF card each, it also comes 1x USB 3.0 and 2x USB 2.0 ports. This allows you to directly view the storage card content without the need to slot in the TF/SD card into the phone (which some may not support either). You can also connect with more different USB accessories (i.e. a USB mouse, keyboard, etc.) to improve your efficiency when using/navigating the phone. This makes it possible for the dock to indirectly turn your phone into a min-PC like device.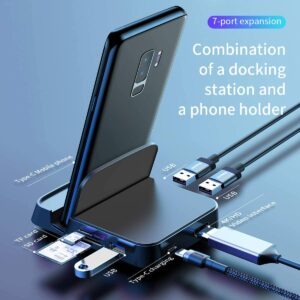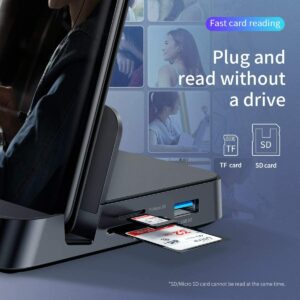 This docking station has got a 4k HDMI port (the quality of the display may varies depending on your phone specification, the cable use, etc.) which allows you to extend your smartphone/tablet screen onto a bigger screen such as a monitor/TV/projector too. This allows you to still do your presentation if you are without a laptop or portable PC. You can maximise your entertainment experience when you are traveling with your family or friends (i.e. watching phone content or playing phone games) on a larger screen and need not necessarily squeeze everyone's view on a smartphone screen (which could be pretty small if you have more than 2 audiences).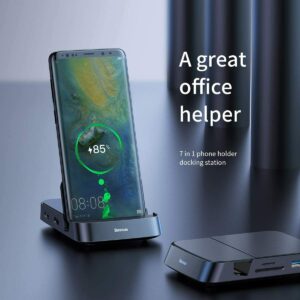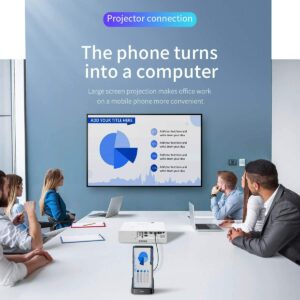 Weighing at ~ 200g and at a decent size, this gadget is not too heavy and big to bring along whenever you are on a business or leisure trip. But it can possibly turn your smartphone into a more efficient and even extend your smartphone functionality too. Tech it out the details of this convenience smartphone charging dock and hub @AMAZON!